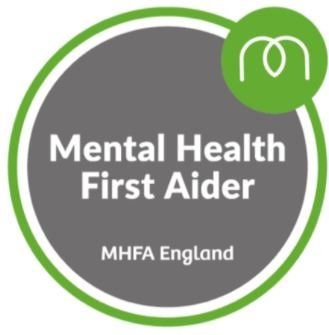 Our Mental Health First Aiders (MHFA) are Mrs Crompton, Miss Kirkbride and Mrs Woods.  Mental Health First Aiders attend training which looks at how to support young people and adults to recover faster from mental and emotional health issues and how to intervene more effectively at points of mental health crisis.
We believe that emotional wellbeing is just as important as physical health. Good mental health helps children develop the resilience to cope with whatever life throws at them and grow into well-rounded, healthy adults.
Our MHFA – Mental Health First Aiders have been trained to have:
An in-depth understanding of mental health and the factors that can affect wellbeing
Practical skills to spot the triggers and signs of mental health issues
Confidence to step in, reassure and support a person in distress
Enhanced interpersonal skills such as non-judgemental listening
Knowledge to help someone recover their health by guiding them to further support.
Our school counsellor is Magz.  She attends school every Wednesday and works with a number of children.
Mrs Balmer attends school for three half-day sessions per week to support  a number of children with social and emotional development as well as early intervention for behaviour.
Delves Lane Primary school & the Health & Wellbeing Framework
Delves Lane Primary has pledged to promote and develop good health and wellbeing.
What do we want the Health and Wellbeing Framework to achieve?
All children, young people and staff to be included and experience a positive and supportive environment that enhances learning and development opportunities.
All schools and education settings to be able to identify strengths and needs and respond appropriately to these by identifying priorities for action.
For the leadership and governance of the setting to value health and wellbeing as a key element of their provision.
For everyone to be aware that good health and wellbeing is closely associated with positive education outcomes.
For all settings to be able to access a range of support and interventions linked to their identified needs